We are a family farm in Chesterfield, New Hampshire, along the Connecticut River Valley. We have a small CSA and farm stand that run from June through October. We proudly sell vegetables and herbs, pastured eggs, salad greens, peas, cuccumbers, beans, peppers, tomatoes and other farm fresh vegetables. We have U-pick Blueberries, Walpole Ice cream, hiking, and farm animals, roasting chickens, pork, turkey, duck and lamb. Everything we sell is grown on our farm in New Hampshire.
We believe that customers have a right to know where their food comes from and how it is raised. We have always raised our livestock without hormones, antibiotics or steroids, and we stock only the number of animals that can be raised by the nutrients available on our 35 acres. Our livestock are pasture fed, grazing on grassy pastures 100% of their lives. They drink well water only and are never fed any animal by-products.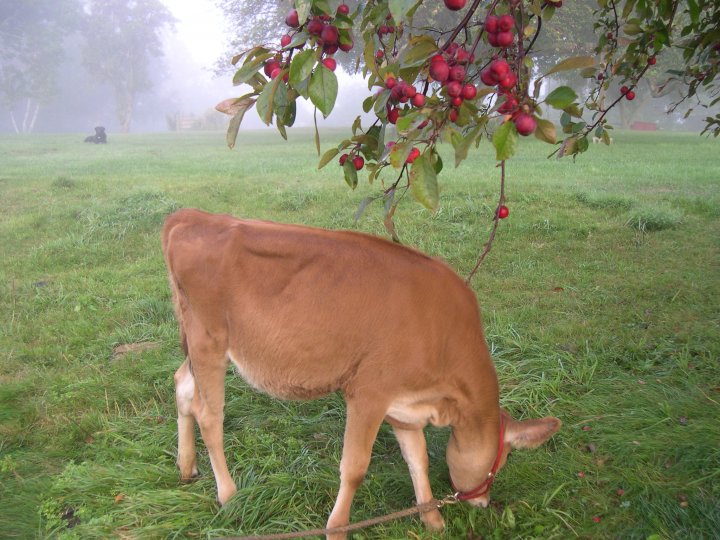 We believe in sustainability and in the importance of the small family farm. We do our best to protect the environment. We know that proper nutrition and respect for our environment and eating locally grown and seasonally can help reverse the negative health effects of what has become a nation of factory farms and packaged "food".
As we educated ourselves about local foods, it became clear that we must make our product available to the local market. From our pasture to your plate…As Nature Intended; Taste the Difference. We enjoy developing a relationship with our customers and supporting a more healthy lifestyle. When you purchase our beef, pork or lamb you help to support our family farm, your local community and preserve rural land with sustainable agriculture practices.
Our property also includes a stream, hiking trails, beaver pond with three active houses, Blue Heron nests, and lady slippers. Stop by, be our guests, park your RV for a day or two – Pick some Blueberries, make some SMORES, or go bat fishing. There are two golf courses close by as well as a public beach on Lake Spofford with the smallest state park and the largest State Park in New Hampshire. Call ahead and Jeanny (a Le Cordon Bleu trained chef) will fix you a picnic basket. Visit with the animals, let your children play with the ducks.
We hope you will give our products a try. Contact us with any questions, just ask for Richard or Jeanny. Thank you for visiting our site.
For more information on our New Hampshire Community Supported Agriculture visit our page regarding CSAs.